One of our 600 Kw energy capsules on hire at Trent Vale Infants School installed as a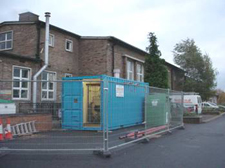 temporary measure for Nottinghamshire County Council whilst the boiler house was being refurbished.
Here at heatpro we have reviewed the current practice of carrying out the replacement of boiler plant during the summer months. Although this may appear to be the most sensible solution it invariably leads to problems throughout the supply chain.

Manufacturers no longer carry vast amounts of stock so delays arise due to lengthy delivery dates. Clients require tighter project durations to fit in with the running of the building. The mechanical and electrical contractors become overburdened with work which leads to delays on projects due to the lack of available skilled craftsmen.
Skilled craftsmen are becoming fewer and therefore contractors can no longer expand the work force to cope with the sudden increase in labour demands and the skilled labour required will be stretched even thinner in the near future. The solution to all of the above problems is to install a heatpro energy capsule to provide the heat or hot water required for the building whilst the existing plant is replaced.
No Gas – No Problem, we have a range of Oil Fired and LPG equipment. The running checks required for LPG and Oil Fired equipment can be incorporated if required by our highly skilled engineers. For example for only £2,500.00 we can hire to you an energy capsule which will provide upto 600Kw of heat, for a typical duration of a 6 week project.
We also have a range of smaller plant, from direct fired water heaters, temporary stand alone boilers to small complete boiler houses for sale or rent. Call us to discuss your exact requirements and obtain a free quotation. Planning for a future project, we would be happy to provide a quotation for a future project on a hire only basis or a hire and connection basis, whichever best suits your needs.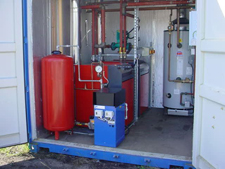 Description of the unit
Container 3m x 2.4m x 2.4m high plus flues.
Boiler 2 – Potterton Prestige 99 Kw. 240 vac
2 – Boiler shunt pumps. 240 vac
Pressurisation 1 – Pressurisation unit set at 1.0 bar. 240 vac
1 – 300 litre expansion vessel.
Circulating Pump 1 – Wilo twin head pump 415 vac
Connections 50mm Heating Flow Both sides.
50mm Heating Return Both sides.
50mm Gas Both sides.
42mm Hot Water Flow
28mm Hot Water Return
42mm Cold Feed
Electrics Within the container is a three phase 415 volt distributor board to supply:
Lighting
Small power
Boiler supply & pumps
Pressurisation system
Small Commercial boiler house – We have a range of gas fired boilers with a heat output of 200 Kw and a separate hot water output of 1,518 ltrs / hr continuous hot water at 44 degc. The units are stand alone boiler houses complete with boiler pumps, flues and external connections to the site services.

We can also provide the unit for use on LPG , a site connection service, pumps specific for your requirements and hire units designed specifically around your needs. All hire units are needed to be commissioned by one of our engineers.
Commissioning on site will take approximately 6 hours if all services are connected, filled and vented correctly. For further information call our sales line on 0115 930 5838 where one of our advisors will be happy to discuss your specific requirements or email sales@heatpro.co.uk

Please note: Our prices are exclusive of delivery which will be charged for at an hourly rate for a lorry with Hi-Habb